Message
When I was a child, I imagined inventors to be magicians, or other wonder worker figures from fairy tales, who create mysterious machines and tools. I know by now, being a grown up that inventors are the engines of development, they are those, who not only design tools and devices that make our everyday life easier, but also bring the spark of epoch-making ideas about.
Inventors contributed such great ideas to promoting environmental protection as well. The major areas where inventors distinguished themselves are renewable energy sources and recycling. Hungary has still a lot to accomplish for a clean and healthy environment.
The government, local governments and businesses will need to spend a major share of their resources so that environmental protection reaches the European level. You are way ahead of us. While we struggle with the problems of the present, you have already laid out the key ideas for the future. And that is how it should be.
I wish you productive work,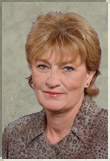 Dr. Mária Kóródi
Minister of Environment and Water