The invention

The problem to be solved:
Neutralisation of two hazardous wastes with each other.
Definition:
We mix two materials at present defined as hazardous wastes in the process.
Presentation:
Disposal of the sewage water sludge that be considered as a waste of the sewage water cleaning, is causing environmental problems. The same my also be told about the waste, namely the flue-ash resulting from the coal-fired energy production.
During the process, the two waste materials are mixed, thus utilizing the heat and active calcium oxide content of the flue-ash and simultaneously the stabilization of the sewage water sludge including its pasteurizing and chemical stabilization will also take place.
Features of the originating new material will significantly be more advantageous even from environmental protection points of view, than the two starting materials, because of the following:
- the stink effect of the sewage water sludge will be eliminated, and the majority of the pathogene micro-organisms will be perished,
- the diffuse dusting contamination effect of the flue-ash (storage media) will be eliminated. Its water-bearing capacity will be improved, the organic materials and plant nutrients (nitrogen, phosphorus) mixed in it will promote the humus formation, thus the originating of an earth-like material.
The application possibilities for the resulting new material:
- recultivation, dust laying of industrial disposal areas, formation of green surface,
- separation of different layers in case of a public waste disposal plant,
- soil improvement.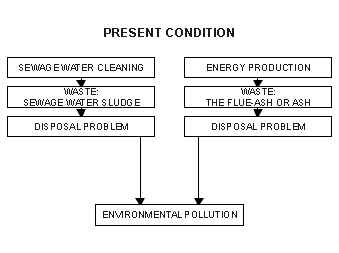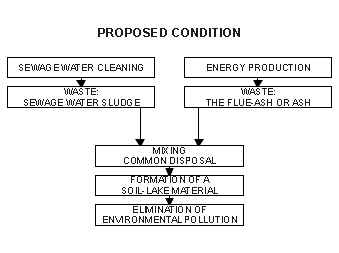 Advantages:
During the process the wastes (combustion product from coal heating and sewage water sludge from sewage water cleaning) are disposed in a way that the new material originating in the wastes will be substantially less harmful to the environment.
Stage of development:
Laboratory and semi-workshop experiments
Documentation available: Yes

The inventor(s)
Name(s): URBÁN István, Árvai Beáta, Dr Hévíziné Szabó Edit, Dr Dosztál István, Dr Nagy István,
Self introduction:
Most of the Inventors are environmental engineers with a degree in hydrobiology, microbiology, soil protection or chemistry.
The protection
Form: Patent
Priority:
Countries where it is force: Hungary
Business intention: Licencig, looking for investor

Contact
Name: URBÁN István
E-mail: urbanistvan@freemail.hu
Fax: +36 34- 364 186
Address: H-2840 Oroszlány, Szeptember 6. u. 24., Hungary