The invention

The problem to be solved:
To make easy unplugging of cylindrical form electric plugs.
Definition:
Special thread is formed on the outside surface of the cylindrical form electric plugs.
A ring, moving on this special thread, can be easily turned around to unplug thus the plug will be removed from the socket in axle direction. While the plug is in place the two threads - self-shut way - will not let the unplugging ring turn around.
Presentation:
Household, industrial and motorcar version of new Easy-to-Unplug plugs can be easily removed by turning the ring aroud.

Application: Electric connectors
Advantages:
All versions of product can be manufactured economically and on favorable price.
Damage and hazard of accidents can be avoid.
Lifetime of both plug and socket will expand, contact liability will improve.
Stage of development:
Prototypes. Serial production of 7 poles car plug will be started soon.
Documentation available:
Yes
The inventor(s)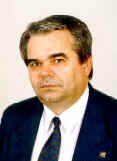 Self introduction:
I am a private inventor working on different technical problems to be solved. One of my inventions were awarded with gold medal while an other was awarded with bronze medal on the International Invention Exhibition of Geneve in 1997.
The protection
Form:
Priority:
Countries where it is force:
Business intention: I am looking for licence buyer or partner in manufacturing and for distributor.
Contact
Name: László SÁNDOR
E-mail: ecoenerg@matavnet.hu
Fax: +3637-319 430
Address: H-3200. Gyöngyös, Berze N. J. u. 23., Hungary