1. The invention:
Coupler head, removable
The problem solved:

The main aim was to design a removable coupler head that is easy and simple to fit on the vehicle, safely fasten on the same and remove it, when not required, as well as that is suitable for mass production.




Definition:

The coupler head fits in into a socket that is fastened to the vehicle chassis rear part and within the socket a rear supporting pin and a lock pin determine the coupler head position securely fastening it inside the socket. The lock pin is secured against drop out with an excentric locking ring.

Presentation:

The object of the invention is a removable coupling head, its dimensions and design meets the international traffic security and strength prescriptions and it can be mounted on passenger cars and light lorries, for the coupling of light trailers.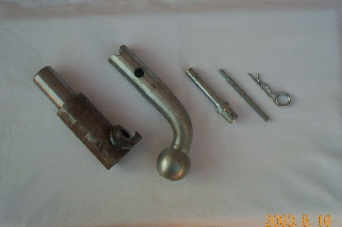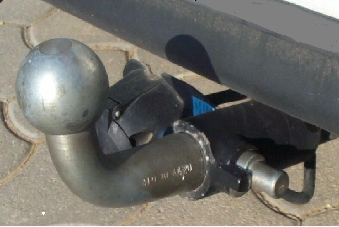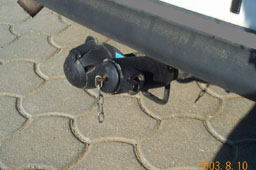 With coupling head Without coupling head
Application:

The removable coupling head can be used in the road communication to couple light trailers to passenger cars and light lorries.



Advantages: The coupling head can easily and quickly be fitted on the vehicle according to the international safety and strength prescriptions and, when it is not required, it can easily and quickly be removed. This way, when the coupling head is not used it does not protrude that lessens the occurrence of serious accidents and damages (e. g.: the protruding coupling head can cause the fracture of the shin-bone of a pedestrian when he/she runs through the road, without attention, just behind the vehicle; or the coupling head can get caught in the front bumper of a vehicle that rungs against it from behind damaging its own front-end, etc.).

The coupling head can manufactured with a low expenditure and working power.

Stage of development:

The coupling head can be produced

Available documentation:

Yes
2. The inventor:
Name:

Sándor BOBÁLY




Introduction:

Sándor BOBÁLY is 64 years old, he is qualified mechanical engineer and he is an entrepreneur, he has also other invention

.
3. The protection:
Form:

Utility model

(Reg. no.: 2044 U)

Priority:

03 April, 2003.

Countries:
Owner of patent:

István Dézsi
4. Business purpose: The inventor is ready to sell the patent rights or, maybe, to supply the product.
5. Contact: