International Exhibition - "Ideas, Inventions and New Products"
Nuremberg, Messezetrum Hall 10.1, October 31 - November 3. 2002
The Prizes and the Presented Hungarian Items
Silver medal, Fuel Consumption Quantifier, invented by Berta, Ferenc:
The Invention, called ÖKOLINE™ is dedicated for general use in Internal Combustion Engines. The fuel flowing trough two specially modified chambers. In the first one there are an optimal arrangement of neodymium-iron-boron magnets. Inside the second chamber there are metal modifiers, which directly affects the characteristics of the fuel. The right type of ÖKOLINE™ is selected to fit the type of engine, i.e. petrol, diesel or gas. It has to be installed into the fuel system. This device decreases fuel consumption and it reduces the pollutants in emission. The power and the torque of engine will not change.
Appreciation, Creative space toy, invented by

Bittner

, Márta and

Maly

, Robert
This consists plastic colored elements. These are covered by a layer resistant to UV radiations, to shock and are anti-slippery or the elements can also be covered by a soft sponge. They are easy to clean and to mend. It can be used either for indoor or outdoor activities. Problems of dyslexia and disgraphia can be corrected by use of this toy.
Silver medal, Instruments for determining of wheat quality, invented by Fodor, Dezső:
These instruments are following: micro-screen shaker and micro-valorigraph. The micro-screen shaker separates small quantities of wheat grinds by grain size for testing of flour samples. The screen shaker has been designed to enable continuous control of the vibrations required. Micro-valorigraph is a device preparing the material for forecasting of the wheat quality. The utilization of these new instruments allows the selection of new wheat for mixing properties and water absorption. Digital processing of the electronic signal greatly improves the accuracy of the measurement in spite the small quantity of the test material.
Silver medal, Construction game invented by Fuchsné TolnaY, Judit
This (Boyongolo ™) is a new and exciting construction game. The player can build an endless variety of tracks with ramps, bridges, jumpers, etc. to carry the fast or slow moving balls on their way. A skilful selection of slopes and curves will allow the balls to speed along. This well designed game is safe, non-toxic, attractive and entertaining for everyone. It develops creative thinking, coordination skills, a sense of direction, color and form. It is an excellent stimulating therapy for the players' mind. Learn the rules of physics through play, and have a lot of fun.
Appreciation,
Rotary Crematorium invented by FÖLDES, Gábor
The invention is a rotary type of equipment with several separate cremating spaces on a joint rigid cylinder shape body, heated by hot gases and/or hot air. The external cylinder is rotated by cogwheel rotating mechanism involving a tooth-edged segment. Exhaust gas is collected in the section between the separate cylindrical cremating units, channeled into the standing smoke collection drum through the holes in the external cover sheet of the cylinder where it can be released through a chimney via a heat exchanger after the already applied neutralizing technologies. It is possible to install 3, 6 or 12 cremating channels within the external sheet with a single feed hole.
Silver medal, Multi purpose wooden tower, invented by Hegedüs, János:
The tower is built with laminated wooden elements. It is engineered with structural integrity and strength. It could be built up to 50 meters high. This tower is self stabilizing without any external support. It is used as communication relay and/or observation tower. This structure is attractive in its appearance and it blends into any environment.
Design Prize (OPEV), Statuette from husks, invented by KOVÁCS, Tímea
The dry cornhusks are the starting material. The invented method is simple and the statuettes are esthetic.
Silver medal, Variable angle drive, invented by Nádas, Béla dr.:
The variable angle drive is suitable for the coupling of two shafts with variable drive angle. The velocity of the driving shafts remains equal. Its construction assures the balancing of the longitudinal and angle errors.
Advantages of the new procedure are no cremating coffin needed, the ashes are not mixed with any foreign material and environmentally safe.
Silver medal, Variable traffic sign, invented by Osbáth, Sándor – ZALAI, Tibor:
The construction can show tree different signs determined by traffic control center. The connection between the variable sign and center is by GSM phone chain. The source of energy is battery-solar cell system.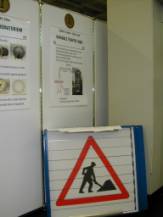 Appreciation, Crane-work controller, invented by Osbáth, Sándor – ZALAI, Tibor:
This is an electronic device, which appreciates the inclination of crane during its work. If the angle of inclination is more than 3 grades then the working will be automatically stopped.
Bronze medal, Washing of Heat Changer, invented by Raisz, Iván dr:
This process enables an environmentally healthy cleansing of the Ljungström heat exchange system of conventional electric power plants. The by-product of this method is a slime, which could be used in steel making. The alkaline liquid from this cleansing could be reused for subsequent washing of Ljungström heat changer.
Bronze medal, Prevention of infection in water system, invented by Szilágyi, Sándor:
This is a special element connected to the pipes of water without any moving parts and chemicals. Its use is economical and bacteria "Legionella" cannot be propagated.
Appreciation, Universal ear plug, invented by

Szentiványi,

István:
The universal earplugs are made in five sorts according to the anatomy of ear. The sizes are being taken into consideration of the proportions of distribution of the population. The material of earplugs is tissue-friend, elastic silicone-gum.
They protect the ear from physical effects (for example noise, water). It is possible to connect hearing aids, phones etc. It is suitable to filter out noise effects of individual demands, with selective filters of noise straying.
Gold medal, Purification of drinking water, invented by Törőcsik, Mihály dr.:
This method is based on the use of a new adsorbent. It is consisting of a synthetic compound and a natural mineral. The drinking water can be purified from arsenic, lead, cadmium, caesium, strontium, and cerium. The greatest advantage of this method is that it also eliminates bacteria in the drinking water.
Activity of ITDH (The Hungarian Investment and Trade Development Agency)
ITDH, an advisory and servicing organisation with an extensive domestic and foreign office network and information base, is jointly operated and supervised by the Ministry of Economic Affairs and the Ministry of Foreign Affairs. ITDH's activities contribute to fulfilling the following economic programmes:
to increase Hungarian exports and expand markets
to support small and medium-sized enterprises in their activity in foreign markets
to promote their activity as subcontractors and their FDI exports
to promote foreign green-field investments in Hungary
to develop regions currently at a disadvantage
to participate in the preparations for the EU accession
Visit the Agency's homepage at www.itd.hu.
Report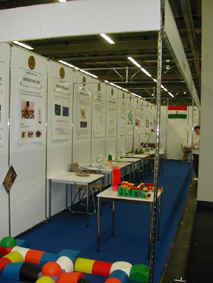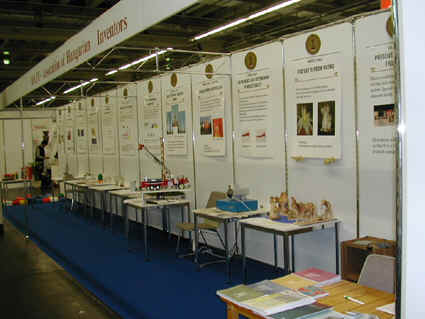 The MAFE booth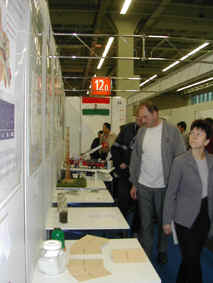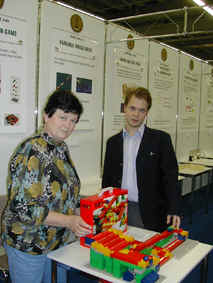 Visitors and demonstrators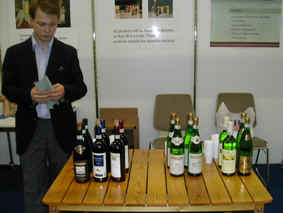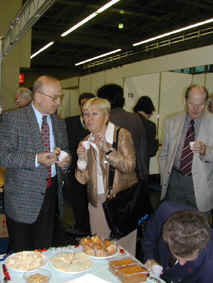 Reception in honor of Mrs. Lydia Zetl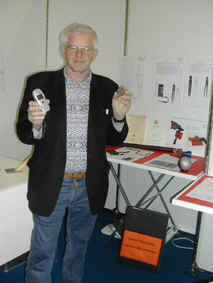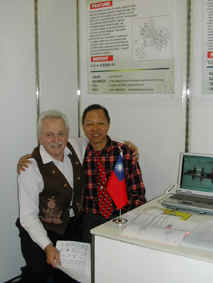 Mr. Bruno GRUBER (Germany) and Mr. Chau-Fu SHU (Taiwan) awarded with GENIUS Prize
and further GENIUS Prize winners: Mr. Vinko ROGINA (Croatia) and Mr. Nasir MEMIC (BIH)
Sponsored by ITDH, Hungarian Investment and Trade Development Agency